Production Risk Management

Improving soil health and water quality are crucial to reducing environmental risk, and there is growing evidence that these improvements will also lead to increased profitability for farmers. ISAP's Production Risk Management programs engage farmers, advisors, and conservation practitioners to emphasize the role of soil health and water quality practices in building profitable and resilient agricultural systems. 
ISAP is leading efforts to provide clear, transparent information to farmers and their advisors on how best to mitigate production risks, adapt to a changing climate, and evaluate carbon market opportunities. 
Risk Management Conference
ISAP's bi-annual Risk Management Conference highlights the use of soil health and conservation drainage practices as tools to mitigate production risk. The Conference aims to increase the knowledge of farmers, landowners, and advisers, bringing the agriculture industry together to highlight how conservation practices build resiliency for Illinois farms.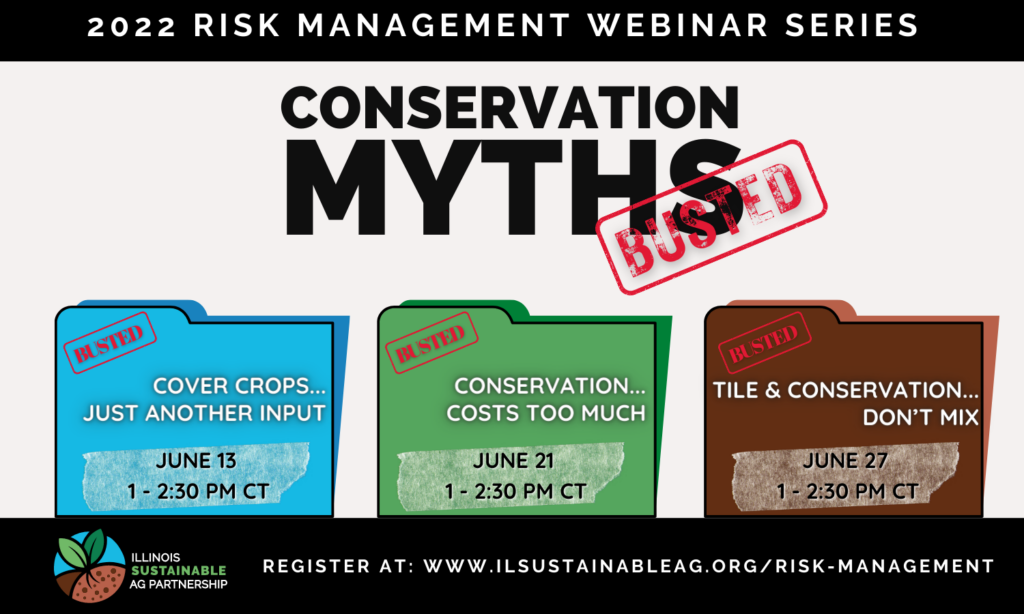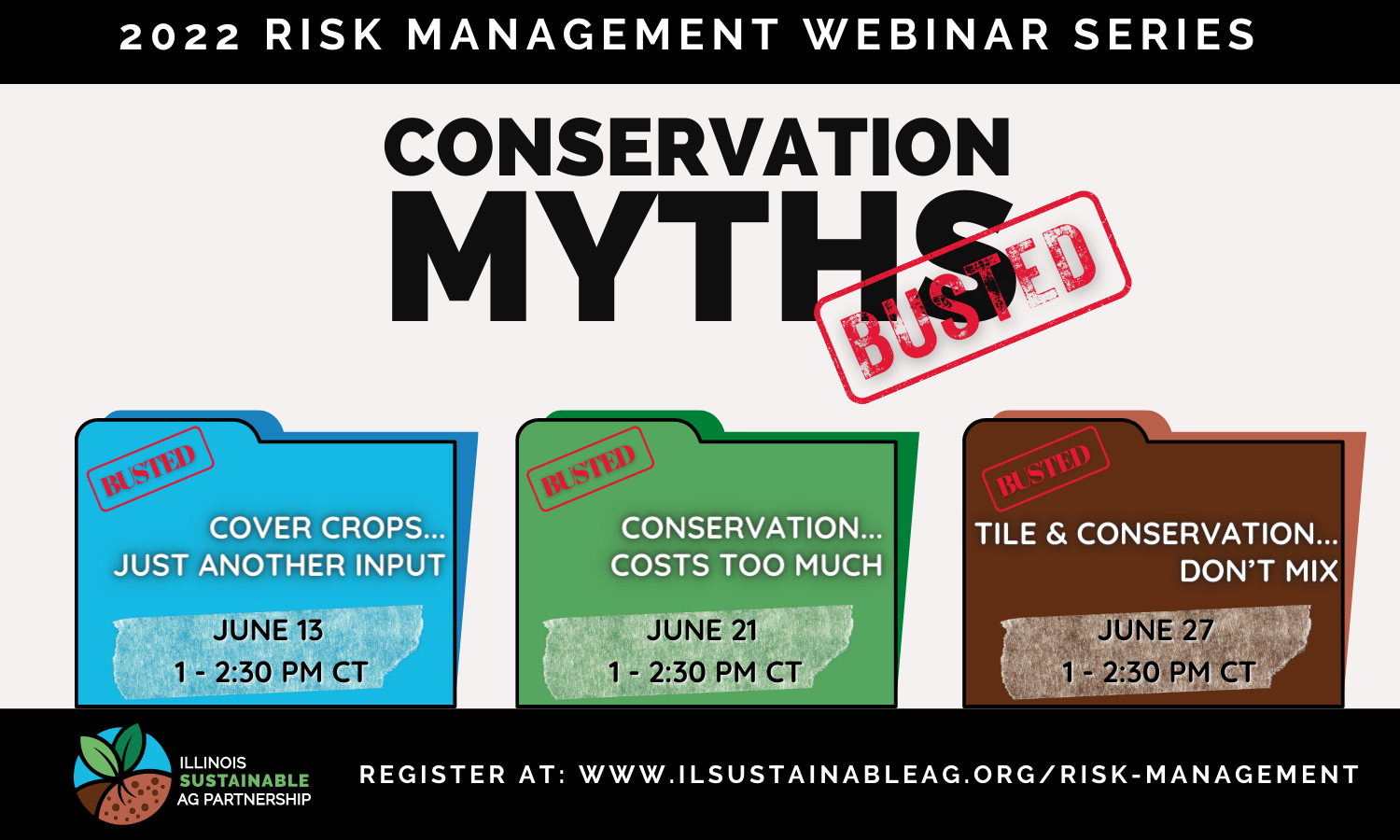 ISAP's 2022 Risk Management Conference is a free 3-part webinar series 'debunking' popular myths that may be keeping some from considering soil health and conservation drainage practices. The series looked beyond the environmental benefits of conservation cropping systems, to highlight the production and economic benefits producers can gain by transitioning to a soil health system. Continuing education credits (CEU's) were offered.
WATCH: "Cover Crops Are Just Another Input" | Agronomic benefits of a soil health system 
The first webinar in the series took on the myth that "Cover Crops Are Just Another Input," exploring the agronomic benefits of taking a systems approach to improving soil health. Jerry Hatfield (Agricultural Consultant), Kirk Kimble (Marshall County Farmer), and Frank Rademacher (PCM Conservation Specialist) shared their perspectives on how nutrient cycling in a biologically active soil can change a farmers' agronomic approach to nutrient management and weed control.
WATCH: "Conservation Costs Too Much" | Economics of transitioning to a soil health system
The second session reviewed the economic benefits of transitioning to a soil health system, busting the myth that "Conservation Costs Too Much." Ryan Batts (University of Illinois Ext.), Paul Dietmann (Compeer Financial) and Dallas Glazik (Pheasants Forever) explored tools ag economists and commercial lenders use to assist farmers in any transition, and discussed how to value the long term improvements a soil health system provides.
WATCH: "Tile and Conservation Don't Mix" | Drainage Opportunities & Challenges
The myth "Tile and Conservation Don't Mix" is a misconception that may be limiting farmers' interest in adopting conservation practices. Tile drainage experts, Ehsan Ghane (Michigan State University), Isaac Ferrie (CropTech Consulting), and Jeff O'Connor (Kankakee County Farmer) explained how tile systems can be designed to mitigate the risk of nutrient loss often associated with drainage, while also providing a foundation for soil health systems to thrive.
Agriculture is on the frontlines of our changing climate. As temperatures continue to rise and extreme weather events increase, farmers are facing increased risk to the success of their crops and the sustainability of their livelihoods. Implementing practices like cover crops and no-till increases soil organic matter and improves soil health, and with over 23 million acres of cropland across the state, Illinois farmers are uniquely positioned to offer immediate, scalable solutions to the climate crisis.  
ISAP is dedicated to supporting farmers as they adapt to and mitigate the effects of climate change. By disseminating relevant research, creating a strong network of informed advisors, and promoting the adoption of climate smart agricultural practices, ISAP is committed to ensuring that Illinois agriculture benefits from being part of the climate solution. 
Ecosystem markets are an emerging tool with potential to incentivize the increased adoption of soil health systems. ISAP is leading efforts to increase transparency on various market incentives and facilitate data sharing among farmer networks. 
Access a variety of program related resources.