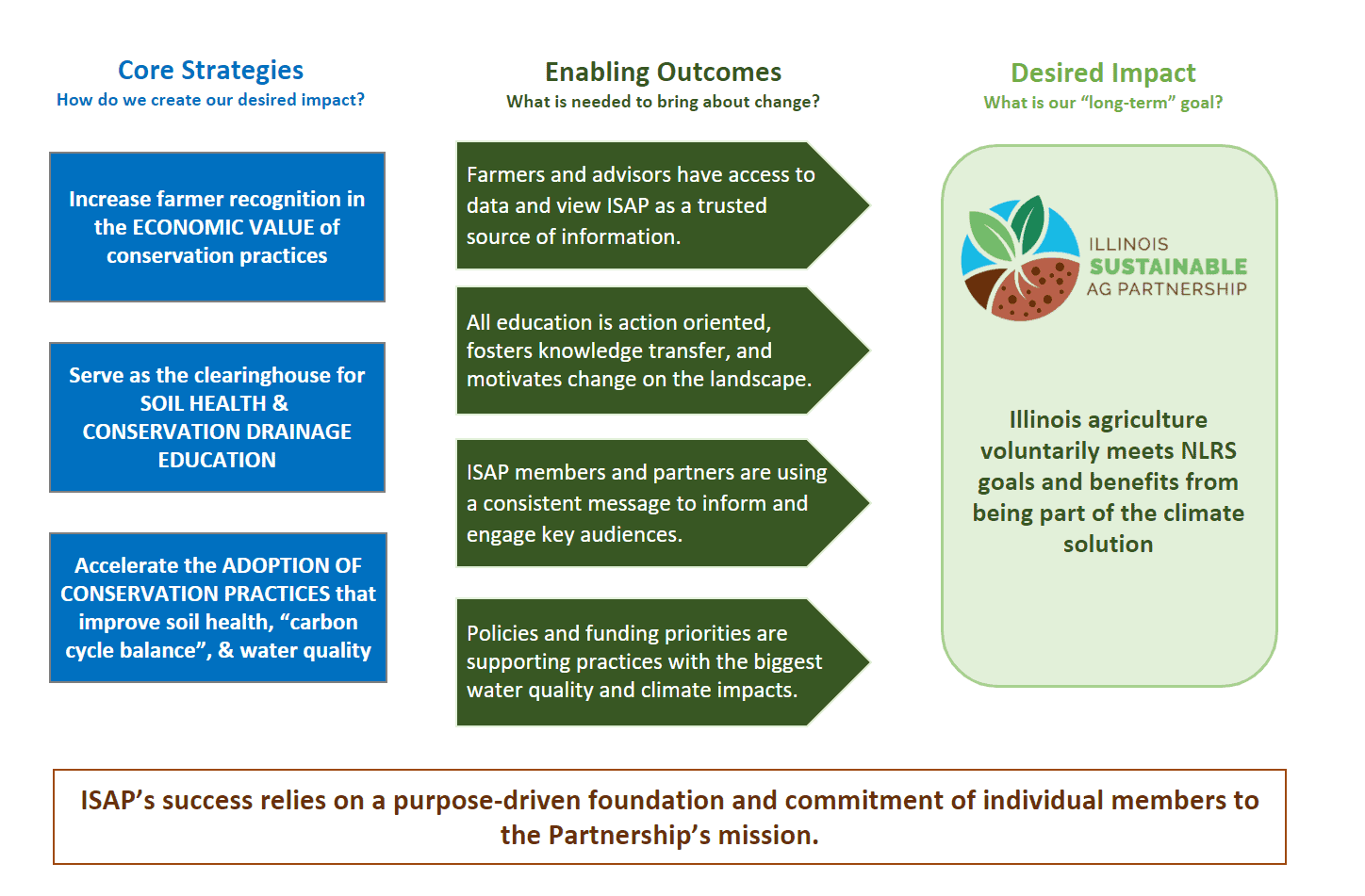 ISAP is comprised of diverse organizations that work collaboratively to increase technical capacity of ag professionals and to utilize data and consistent messaging to encourage the adoption of in-field and edge-of-field practices to reduce nutrient loss, while minimizing risk and increasing profits of the farmer.
In 2020, members of ISAP participated in a series of discussions to develop our Theory of Change (TOC). Through this process, ISAP refined the partnership's purpose and came to a shared understanding on ISAP's priorities, ensuring our work will be effective toward meeting the goals of the Illinois Nutrient Loss Reduction Strategy (NLRS) and achieving environmental outcomes.
ISAP benefitted by facilitation support from Lisa Merrifield, University of Illinois Extension, through a visioning exercise that revealed three themes 1) economics, 2) education, and 3) practice adoption. A survey was also conducted identifying assets within the partnership that included a trend analysis exercise for Illinois agriculture and group discussions on enabling outcomes and outputs.
Under this TOC, ISAP developed a three-year action plan (2021-2023), which specifies outputs and actions that can be measured and evaluated. Five teams were formed (Policy, Education, Communications, Science, and Governance) and each team developed thematic action plans. Essentially, each team aligned with one of the enabling outcomes with governance focused on developing the structure for ISAP success that relies on a purpose-driven foundation and commitment of individual member to the partnership's mission.
The action plan is based on the members' expertise, priorities, capacity, and resources. While the plan identifies and prioritizes opportunities for ISAP, many of the undertakings are extensions of activities or programs already underway and/or will be initiated throughout 2021. Adjustments to the plan may be needed in response to changes in partner capacities and opportunities within Illinois agriculture.
ISAP members reviewed the plan and officially approved the theory of change and three-year action plan in December 2020.   
Mission, vision & what we do
1
MISSION
ISAP's mission is to create a network to support a systems approach to improve soil health and reduce nutrient loss.
2
VISION
ISAP envisions Illinois as a sustainable agriculture system that results in improved soil health, water quality, profitable and resilient agriculture systems, and thriving communities.
3
WHAT WE DO
1. Platform for disseminating relevant research
2. Coordinating field days and/or other events
3. Providing expertise through our collaborative partnerships
4. Provide resources for soil health networks, outreach, and education
our team
Jim Isermann serves as ISAP's Soil Health Specialist, covering Illinois. Jim most recently was a Field Manager...