ISAP is excited to feature the Illinois Central College (ICC) as our July Partner Spotlight! ICC is an open enrollment, comprehensive community college located in the Peoria area and serves approximately 7,500 students in 10 counties.  ICC is known for its programs in agriculture, healthcare, information technology, manufacturing, police and fire science, horticulture, and other high demand occupations.   
The mission of the agricultural program at ICC is to prepare students for careers in areas such as business, animal production, agronomy, farm services, crop research, precision agriculture, and other related areas by providing an exceptional educational experience for students who desire to be part of the ever-changing agricultural industry.  The agricultural program provides intellectual, demonstrative, and cultural resources for students within the college district.  The college's 70-acre farm assists in the hands-on learning and applied research of the program.
The program is gaining momentum and reputation within the educational community and industry.  Outreach in the local, state, and national agricultural communities continues to be at the forefront of ICC's agricultural program. The research and demonstration plots focus on many issues including nitrogen rates, cover crops, tillage vs no-till, and planter performance technologies with unparalleled research in areas of sustainability, soil health, and water quality.
Read below to learn more about opportunities in agriculture at Illinois Central College!
ICC and The Partnership
ICC is a founding member of the Illinois Sustainable Ag Partnership and has been a strong supporter of the Partnership's programs. The guidance, experience, and expertise of ICC's ag faculty has allowed ISAP to serve as a leader in building technical capacity of Illinois ag professionals who are advising farmers as they transition to conservation cropping systems. Members of the ICC faculty conduct research, provide management and maintenance of the Rainfall Simulator, development of training curricula, and leadership on ISAP's education and science committees. With ICC's membership, ISAP is better equipped to encourage the adoption of sustainable and profitable production practices that improve soil health and restore local waters across the state.
Upcoming Summer Field Day
ISAP and ICC are excited to cohost a Soil Health Field Day this summer with Cargill and American Farmland Trust (AFT). You're invited to join us on Friday, August 12 for an in-person field day to:
Learn more about carbon markets
Experience hands on soil health demonstrations with ISAP experts
Consult with local resource professionals and soil health implement dealers
Visit equipment showcase
Hear from a panel of farmers discussing their own soil health journeys
To join us in Peoria, IL, please register for the field day, and send any questions to hello@ilsustainableag.org. Capacity will be limited so make sure to register soon!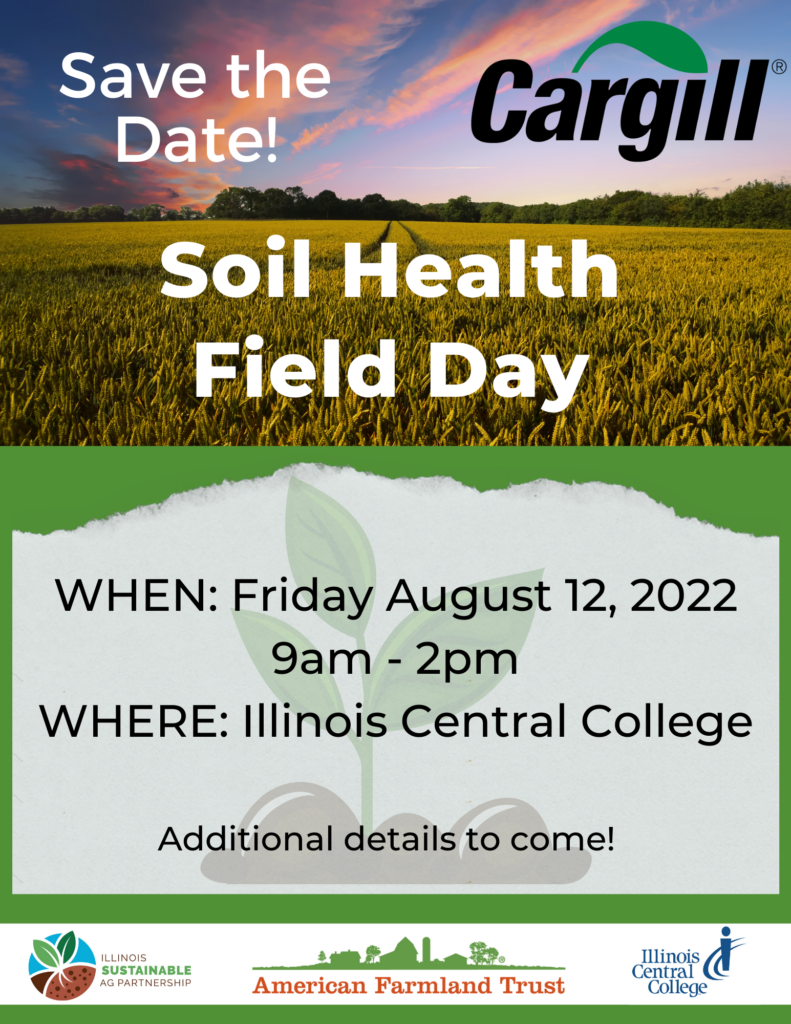 ICC's Agricultural Program
ICC has three distinct educational paths within agriculture:
Associates in Arts (or Science) degree
Associates in Applied Science (AAS) degree in Agricultural Science and Technology.
Certificate
The Associates in Arts (or Science) degree is for any student wishing to transfer to a university to pursue a bachelor's degree in agriculture. While at ICC, students will complete their general education classes and up to seven basic agricultural courses that are considered the foundation for a bachelor's degree in agriculture.
The Associates in Applied Science (AAS) degree is considered a terminal (two year) degree to prepare students for employment in the agricultural industry by educating them in the fundamental concepts, knowledge, and hands-on techniques and skills of the agricultural industry. Four specializations exist within the AAS degree, including Agricultural Business Management, Agronomy, Animal Science, and Precision Agriculture. Students in the AAS program receive many opportunities to enhance their employability skills. These students are required to complete two separate 8-week internships during the sophomore year of the program. These internships are vital to student success to apply the skills learned in class to a work-based setting and will hopefully lead to full time employment with a family sustaining wage.
The certificate program offers students a one-year option to increase their working knowledge and employability skills in the areas of Agricultural Production or Precision Agriculture.
Many opportunities for ag-related co-curricular activities exist for students, including Professional Ag Student Society, Collegiate Farm Bureau Club, Agri-Business Club and Livestock Judging Team.
Want to know more about your opportunities in agriculture at Illinois Central College? Contact Janell Brooks at Janell.Brooks@icc.edu.  We offer on-campus housing that allows all students to pay in-district tuition.  Fall classes start August 15, 2022. Let us help you get started in agriculture! Apply today!