More than half of U.S. corn is still not planted—Illinois is one of the states the furthest behind. Precision Conservation Management (PCM) realized one benefit from the wet, delayed spring—a few extra weeks to schedule our Resource Analysis and Assessment Plan (RAAP) reports. This spring, our PCM Specialists were able to visit about 200 Illinois producers and present useful data for this year's on-the-ground work.
The RAAP is a physical report that is produced by PCM. Each delivery is different as the PCM specialist caters to the farmers' goals and abilities. PCM specialists spend up to two hours reviewing a RAAP, which includes the individual producer's agronomic data along with an aggregated financial assessment (very similar to a FBFM Enterprise Analysis). These specialists are looking for economic and production trends in which conservation practices could be implemented to further improve the operation's bottom-line.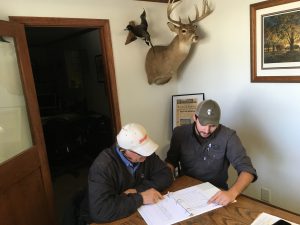 Specialists use the RAAP to discuss where and how conservation efforts would work best, and compromise with producers to pick a field where they're comfortable trying something different. Over time and with dataset building, PCM specialists will push to expand conservation. The farmer keeps his/her RAAP with detailed notes and an action item to advance conservation practices. Throughout the year and producer's time in the program, these annual RAAP's will be the center of discussions. For farmers with enough data for a baseline, PCM specialists may do the following while reviewing and delivering the report:
Identify a few fields where cover crops would work best because of sporadic production, soil productivity ratings, tiling and ownership, crop rotation, and current practices
Compare different strategies within an operation (i.e. a farmer has no-till acres and conventional tillage acres)
Present sustainability rating for environmental metrics and compare producers to program, region, and state averages
52 of PCM's cooperators received their third RAAP report this winter which included four years of data. The positive economic data on conservation practices from previous years' data gave farmers a confidence boost for those that implemented these practices. The chisel and/or disc farmers didn't have to pull through the ground, or the bulk of fall fertilizer they didn't apply, will ultimately help farmers financially in the 2019 season.
Two articles of importance to read in addition are the following:
Precision Conservation Management plans to add another 100 Illinois farmers to our program this summer. Additionally this summer, PCM is adding new partners, continuing a cover crop cost share incentive, and potentially hiring new specialists around the state.
PCM is a farm service program intended to provide the economic impact of conservation and offer one-on-one consultation to realize the financial benefit of precise conservation efforts. Keep updated on all of our work this summer—aggregated information on the change farmers are making and generalized financial summaries will be posted on PCM's website, www.precisionconservation.org.