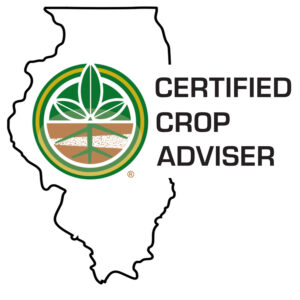 For ISAP's December Partner Spotlight, we're featuring the Illinois Certified Crop Advisers! The Illinois CCA Program, an initiative of the American Society of Agronomy, is designed to establish base standards of knowledge for advisers of crop management and production inputs. In Illinois, CCAs are committed to supporting their grower customers as they make the most environmentally and economically sound decisions for their farming operations.
Illinois CCA joined the Illinois Sustainable Ag Partnership in March 2022 and has since expanded ISAP's ability to better engage Certified Crop Advisers in our network of conservation professionals to inform and advise producers across the state. With over 1,100 CCAs in the state, the Program is uniquely equipped to disseminate the most up-to-date scientific research and conservation techniques to improve soil health and water quality.
As a member of ISAP, Illinois CCA keeps farm advisers closely connected to ISAP resources and programming, furthering the Partnership's goal to leverage the collective expertise that exists within Illinois agriculture. Lisa Martin, Program Coordinator of the Illinois CCA Program, serves on the ISAP Education committee and supports ISAP's educational initiatives including hosting informational webinars, trainings, events, and field days.
Crop Advisers from across Illinois will gather in Champaign, IL on Thursday, December 15th, for the 2022 Annual Conference, where they will have the chance to learn from leading experts, network with other advisors, and earn additional CEU credits towards their certification. During the conference, members of the ISAP team will be presenting on the basics of Conservation Drainage, targeting the message specifically for CCAs and other partners in nutrient loss reduction efforts. The conference will also cover other relevant topics including challenges presented by climate change, factors to consider in ecological management, and technological opportunities to improve nutrient management.
Registration for the 2022 Illinois CCA Conference has closed, but walk-ins are welcomed to join this excellent opportunity to earn continuing education units and network with other CCAs across the state. CCAs can earn up to 8.5 CEUs by attending this one-day program, packed with presentations featuring leaders from Illinois agriculture as well as practitioners, researchers, and farmers from across the Midwest. Learn more about the conference here.