The Illinois Sustainable Ag Partnership has launched an interactive Conservation Story Map to showcase sustainable agriculture efforts across the state and tell the stories of farmers, service providers, conservation specialists, ongoing research, and demonstration sites that are successfully adopting, exploring, or promoting conservation cropping systems and conservation drainage management.
The ISAP Specialist Network is made up of conservation advocates who are working directly with farmers to advise on the integration of conservation farming practices on Illinois farms and landscapes. Many of the Specialists have attended ISAP's training programs or contribute regularly to ISAP's educational webinars and field days.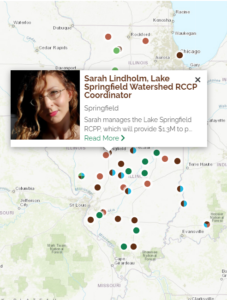 Sarah Lindholm is a clean water advocate and environmental engineer who is included in the ISAP Specialist Network. Sarah has always been interested in the environment around her, studying biology and ecology in college, and completing her Master's thesis on prairie restoration. Although she always considered herself a "land person," she got her start working as a technician at the Illinois River Biological Station studying stream ecology and the impact of fisheries on water quality. With experience spanning from land to water, Sarah is a self-described "jack of all trades." Her interdisciplinary background allows her to support conservation programs that connect on-farm action to downstream impacts.
For three years, Sarah worked as an Environmental Scientist and GIS Analyst for Northwater Consulting. In this role, she was responsible for developing watershed plans to help public and private partners better manage water resources in some of Illinois' most impaired watersheds. "Working in central Illinois," Sarah explained, "so much of watershed planning is recommending Best Management Practices, suggesting ways to improve water quality, and working to reduce nutrient loads from agricultural fields."
Sarah wanted to improve her knowledge of edge-of-field water management techniques, so she enrolled in ISAP's Advanced Conservation Drainage Training (ACDT) program. "What I really liked about those trainings," shared Sarah, "was that we got to learn the details on planning practices like drainage water management and saturated buffers." Beyond the technical aspects of the training, Sarah found value in connecting with presenters and other trainees in the program. "It helps not only with personal growth," Sarah described, "but was also really great to meet other people who are doing the same watershed management work as you."
In 2020, Sarah began working for the City of Springfield in the City Water, Light, and Power Department, where she now enjoys working on both land management and water quality of the lakes and watersheds in the city's jurisdiction. Sarah also manages the Lake Springfield RCPP, which will provide $1.3M to producers in the Lake Springfield watershed to build soil health, reduce erosion, and improve nutrient management. Learn more how the Lake Springfield RCPP compares to other incentive opportunities by exploring ISAP's Cover Crop Incentive Directory.
Through Sarah's career, she's worked to surround herself with people who are experts in their fields and are willing to share their knowledge. Her advice to farmers or landowners who are interested in learning more about conservation practices, soil health, or water quality is to "find a network of people who can help out – whether it's your agronomist, the people you buy your cover crop seed from, a researcher at the university, or someone from ISAP."
ISAP's new Conservation Story Map can help make this goal a reality. By exploring the growing list of ISAP Specialists on the Conservation Story Map, you can get in touch with conservation practitioners who are willing to share their expertise and connect you with resources to further your own understanding of conservation practices.  The Specialists' expertise ranges from soil health and cropping systems to drainage water management and habitat restoration.
Whether you're looking to implement in-field practices or install edge of field structures, ISAP's Specialist Network can provide support and guidance. Meeting the goals of the Illinois Nutrient Loss Reduction Strategy will require maximizing the collective expertise that exists within the interdisciplinary network of Illinois agriculture and conservation advocates.
You can explore the Conservation Story Map on ISAP's website to get in touch with conservation agriculture specialists and farmers, explore research and demonstration sites evaluating the impact of conservation practices, and find a service provider near you who can support your transition to a conservation cropping system.
Are you a leader in conservation agriculture in Illinois? Add your own pin to the map to help tell the story of state-wide efforts to support healthy soil, clean water, and profitable farms in Illinois!