The Illinois Central College (ICC) Demonstration Farm in East Peoria began in the late 1970s with years of research on the effectiveness of in-field practices like cover crops and nutrient management. Now, through the ISAP partnership, it has expanded to include hands-on demonstration of a range of sustainable ag practices, including a denitrifying bioreactor and a drainage water management field. As the capstone practice installed on the farm, a new constructed wetland will capture the drainage coming off all the farm's fields and naturally remove excess nutrients. ICC and the Illinois Corn Growers Association, a member of ISAP, will be monitoring the practices' effectiveness, including the water quality improvement achieved by the wetland.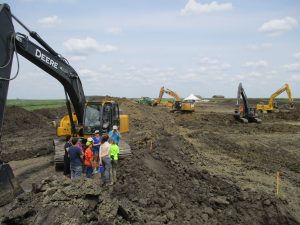 Join The Wetlands Initiative, Illinois Central College, and the Illinois Land Improvement Contractor's Association, along with other members of the Illinois Sustainable Agriculture Partnership and representatives from agriculture, drainage, and conservation communities for a field day focused on implementation of nutrient loss reduction practices. The July wetland installation at ICC will mark the fourth time that Illinois LICA has partnered with TWI to install constructed wetlands in Illinois.
Participants in this open-house style field day will have opportunities to observe live installation of a constructed wetland by Illinois LICA contractors. Tours of cover crop plots and the bioreactor will also be available, and partners will be on hand to discuss sustainable agriculture, soil health, conservation, and pollinator initiatives. In addition to the field day, Construction Open Houses will be held each day during the wetland's installation. During construction, attendees can view the different components of a constructed wetland first-hand as it is being built and talk with TWI staff about how the practice works.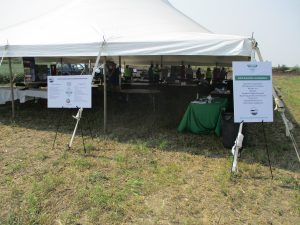 "Constructed wetlands are an effective, long-life, and low-maintenance option for farmers' nutrient loss reduction toolkit, and we're excited that an on-the-ground example of this practice will be part of Illinois Central College's innovative Demonstration Farm for students, ag advisers, and professionals to learn from in the future," said Dr. Jill Kostel, TWI's senior environmental engineer. TWI is providing free technical assistance for farmers to install constructed wetlands on their own properties, working with other ISAP members and county partners on outreach and collaborating with the USDA Natural Resources Conservation Service (NRCS) on the wetland design.
The public is invited to attend a free Nutrient Loss Reduction Field Day at Illinois Central College's East Peoria campus on Thursday, July 25 as part of a week-long expo showcasing installation of a constructed wetland on the Illinois Central College Demonstration Farm. The field day runs from 9:00 AM to Noon and includes lunch.
Members of the public are welcome to stop by and see the wetland construction starting Tuesday, July 23, through Friday, July 26, from 9:00 a.m. to 12:00 p.m. and 1:00 to 5:00 p.m.
In conjunction with the Nutrient Loss Reduction Field Day, ISAP is organizing and hosting an Advanced Conservation Drainage Training focused on constructed wetlands on Wednesday, July 24, at ICC. Participants in the training will complete the classroom exercise on Wednesday, then attend the field day the following morning starting at 8:00 a.m. A few spaces remain in the classroom training session; for information contract Adrienne Marino (309-636-3322, adrienne.marino@tnc.org)
For more information regarding the event please contact:
Jean McGuire
Email: jmcguire@wetlands-initiative.org
Phone: 515-520-3036
For more information regarding this event please visit: www.smartwetlands.farm/icc2019